Ever wonder why some Pinterest accounts have endless viral pins while others struggle to get even a handful of clicks?
I mean, we know there's a lot of factors that go into what causes a pin to go viral, but there's one thing we can't ignore about Pinterest:
It's visual.
This means, if your pin design is not on point, you WILL lose traffic (or maybe never get it in the first place 😭).
But pin design isn't always easy… When I first started creating pins in early 2019, I would literally spend HOURS creating one or two pins. It was painful.
Until… one day, I found Kristin Rappaport on Pinterest (of course!).
I kept seeing her gorgeous pins in my Home Feed, and I couldn't get enough. I just wanted to make pins that looked like THAT.
​ DISCLOSURE: The links in this post are affiliate links. I only promote programs that actually help me do awesome things and made a difference in my bottom line ($$$).
I spent about a week digging into Kristin's content and learning as much as I could about how real graphic designers operate (turns out they have so many time-and-sanity-saving tips holy moly)…. Then, I finally caved and bought her pin design course. Within no time, I could create pins QUICKLY that actually LOOKED GOOD.
The following week, I created a proper pin design portfolio on my website: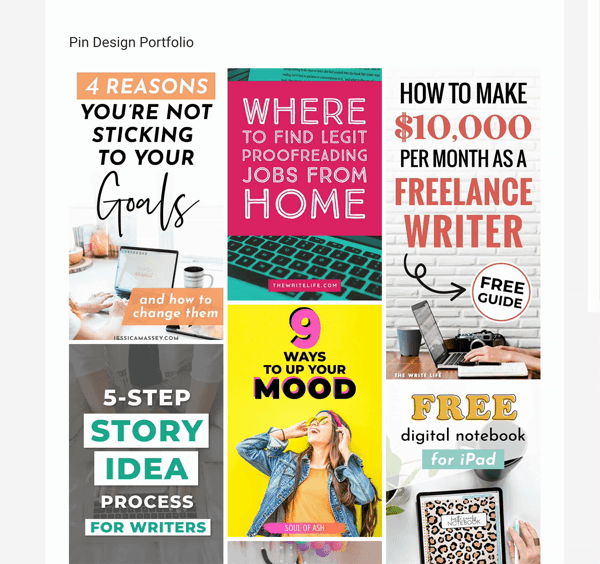 ​
…and almost immediately (3 days later to be exact) I had a new client request 50 pins per month, which was more recurring $$$ than I had paid for Kristin's course.
👉 Real. Life. Income. 👈
But it didn't stop there…
Skills = Moolah 💰
The truth is, graphic design is a ridiculously AMAZING skill to have in the online world.
Being able to create graphics with confidence has made such a huge difference in my income. I can't say it enough.
Here's a list of all the designs/products I've created after taking Kristin's program, and the revenue I've generated from each, just in the last 12 months.
On my niche blog:
Volunteer Template Pack (earnings: $4,458)
Guide to Raising Money E-Book ($3,588)
Teacher Templates (earnings: $1,296)

In my Pinterest management business:
Pin Design for Clients (earnings: $5,345)
Logo Design, Media Kits & Graphic Design Jobs for clients ($5,005)
Pin Templates (earnings: $2,689)
The initial investment I made into Kristin's program gave me the SKILLS to generate over $22k in revenue over the last year.
The best investment you can make when starting an online career is learning a valuable, in-demand skill. If graphic design is something you enjoy, you can turn that into a real income.
Kristin's program helped me do it, and it can help you too!
Free Pin Design Workshop
I've kept in touch with Kristin since then, and I'm super excited to let you know she's put together a brand new FREE Pin Design Workshop.
Because of Kristin, I'm able to design pins a bazillion times faster than I used to, and I'm no longer SECOND GUESSING my work.
Kristin is a DIY graphic design PRO and she'll be diving into how to design scroll stopping pins that get your viewers to take action (THE CLICK!). We're talking more traffic and more subscribers, which leads to more INCOME and, if you're a Pinterest VA, way happier clients!!
Here's what you'll learn in the workshop:
A guaranteed way to increase your visibility and actually look like a professional
How to craft irresistible headlines that attract clicks
The single thing that will dramatically increase the traffic to your website
How to create more unique pins so that you can STAND OUT in the feed
Her #1 time-saving pin design hack that she used to HATE to admit
And because I love her program so much…
Kristin's course has been such a game-changer for my business… To show you how much I believe in it, I'm going to give you some special bonuses from my shop if you decide to purchase her program, Pin Design Perfection.
You'll get these items for FREE from my shop:
50 High-Converting Pin Templates for FREE ($37 value)
10 NEW Canva Pin templates ($17 value)
Pin Description Prompts Swipe File + ChatGPT Prompts 🤖📌 ($27 value) – this is my cheatsheet to the FASTEST way to write keyword-rich pin titles and descriptions while using minimal brain cells!
​
​To redeem the bonuses, simply forward your receipt of Pin Design Perfection to amy@leveeroadstudio.com, and we'll get the templates and Swipe File to you within 48 hours of receiving your email!
Is Pin Design Perfection Right for You?
If you struggle with graphic design or feel like it takes your way too long to create a pin, Pin Design Perfection will fast-track you to being able to create with confidence and SPEED! Then you can turn those same skills into income-generating products or services just like I did in whichever field of graphic design you enjoy most.
I have taken 3 other pin design courses, and Kristin's is the only course I recommend. The way she simplifies everything for us non-designers, made such a HUGE difference in comparison to the other courses I took.
The best way to see if this pin design course is right for you is to check out the Free Pin Design Workshop. That way, you can get a feel for Kristin's teaching style and get an idea of what to expect from the program.
If you have any questions about her course, feel free to email me at amy@leveeroadstudio.com. I'm happy to help! 🙂
Amy
Ready to Get Ahead of all the Algorithm Changes on Pinterest?
Learn what's changed and start getting results with our most popular download — the FREE 2023 Pinterest Strategy Guide! This guide is hosted on Podia so I can quickly keep it updated (updates happen ALL the time!). Once you sign up, you'll have forever access to future updates. 🙂
​Another disclosure, in case you missed the first one: The links in this post are affiliate links. I only promote programs that actually help me do awesome things and made a difference in my bottom line ($$$).
---
More Pinterest Resources:
---
​ ​ ​
​